A note on the published
2020 UAE Corporate
Sustainability Reports
A note on the published 2020 UAE Corporate Sustainability Reports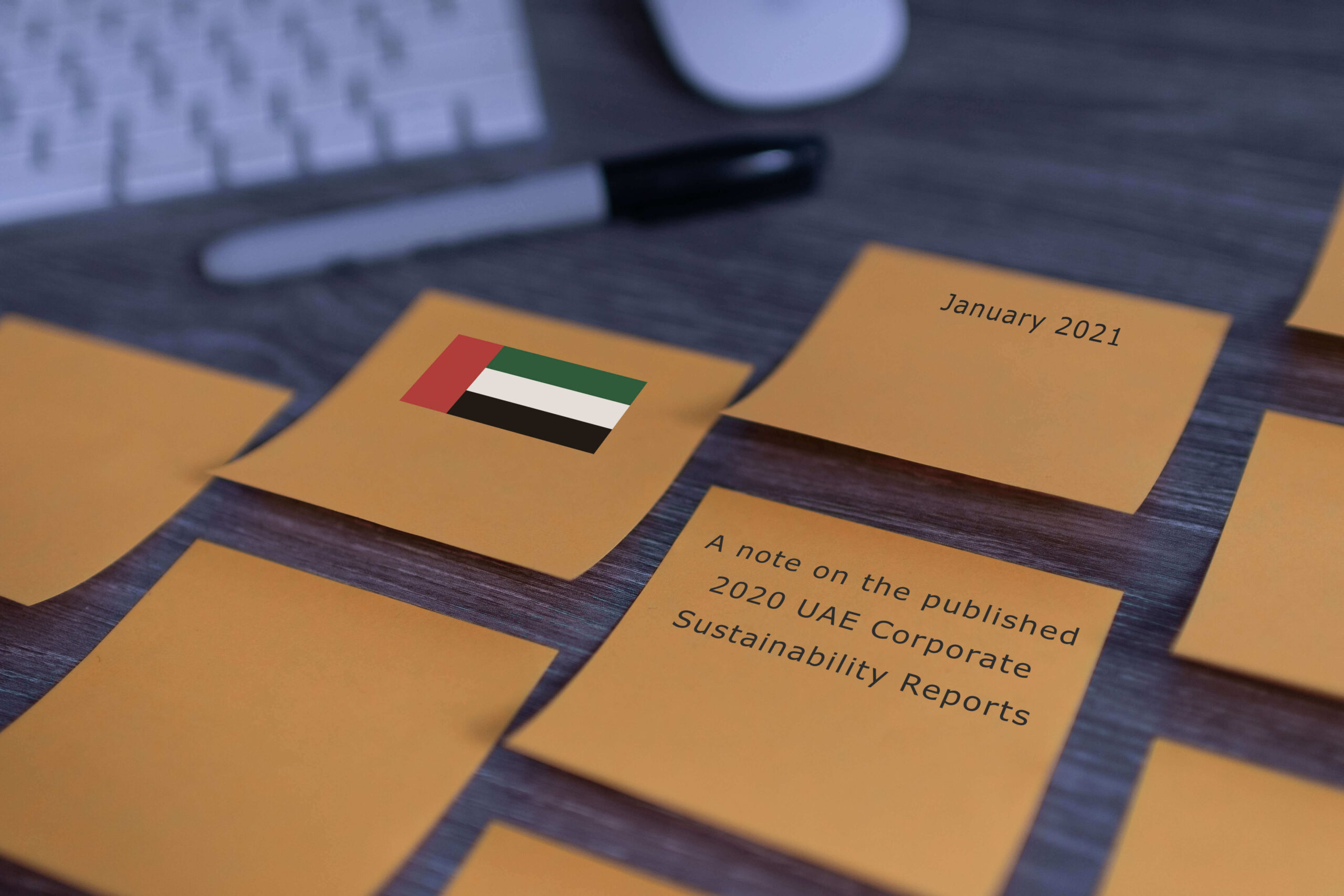 2020 Sustainability Reporting Look-Back
As the COVID-19 pandemic began to spread across the world in early 2020, many wondered about its impact on the positive momentum we had been seeing in global corporate sustainability initiatives. Some had predicted that sustainability-related initiatives will decline given that companies would become too preoccupied with weathering rising business challenges. Others believed the intense consequence the virus will have on the world economy would actually accentuate sustainability-related global efforts.
It became clear throughout the year that the latter held true. For instance, 2020 witnessed a number of countries and major corporations announcing their 2050 (or earlier for some) carbon-neutral or net-zero pledge. Other interesting developments included ESG bond volumes reaching a record high at over $489 billion (source: Refinitiv data), and ESG funds' assets surpassing $1 trillion by the second quarter. Further major initiatives involved the EU Commission launching a new public consultation with the ultimate aim of making companies improve their sustainability disclosure as well as some countries such as the UK and New Zealand setting precise dates for making Task Force on Climate-Related Financial Disclosures (TCFD) reporting mandatory for large companies and financial institutions.
In addition to the above and particularly for what concerns sustainability reporting standards, we noticed an important will by all major standard-setters to come together and strengthen, as well as quicken, the dialogue to creating globally accepted common standards. Some of the major related news included:
The 2020 World of Sustainability Reporting
The world of sustainability reporting has undoubtedly become mainstream especially in the US, Europe and some parts of Asia. More specifically, 90% of S&P500 companies (up from 86% in the previous year) published sustainability reports during 2020 – related to their 2019 fiscal year ( source: Governance & Accountability Institute, Inc. ), 65% of the Russel 1000 Index companies published sustainability reports (an increase from 60%), while 90% of the largest 500 companies by market cap in the index published sustainability reports in 2019 – up from 86% ( source: Governance & Accountability Institute, Inc. ). About half of all reporting companies used the GRI Standards. 
The MENA region remains with the lowest sustainability reporting numbers, yet we do expect, going forward, for growth to take place at a rapid pace.
What about sustainability reporting in the UAE?
We wrote two notes back in October about the UAE sustainability reporting drivers and initiatives (note 1 and note 2) in which we identified the various factors that we believe will lead to an increase in sustainability and integrated reporting in the UAE. Among the major initiatives is the inclusion of Integrated Reporting as part of the updated corporate governance guide issued by the UAE Securities and Commodities Authority (SCA) in February 2020.
Below we provide some statistics and details about the type and level of reporting among UAE listed firms. These stats refer to those reports published in 2020 which relate to 2019 fiscal year performance (the statistics do not take into consideration reports issued in previous years – preceding 2019).
Below are two important comments to consider prior to viewing the numbers:
Comment 1 : We have included in our computation all companies (public and private joint stock companies) listed on the Dubai Financial Market (DFM) and the Abu Dhabi Securities Exchange (ADX). Nasdaq Dubai Stocks are not included.
Comment 2 : We have divided our findings into 5 different categories, below are their definitions:
Audited Financial Statements Only : This refers to those companies that only publish audited financial statements (as received by their respective auditors) with no additional information such as management commentary or other
Basic Annual Reports : This refers to those companies that have put some efforts into presenting their audited financial statements in a form of an annual report. Yet these reports remain very basic and only provide details that are usually included in raw audited financial statements (as provided by auditors)
Annual Reports : This category refers to those companies that do prepare a comprehensive annual report with general disclosures, management commentary and other information helpful to annual report readers. Yet these companies still do not provide any stand-alone sustainability reports (but could have a brief sustainability section within their annual report)
Sustainability Reports : These are stand-alone sustainability reports with a good level of information related to sustainability performance (brief sustainability sections within annual reports do not qualify as sustainability reports). It goes without saying that those that provide stand-alone sustainability reports, by default, also provide comprehensive annual reports as per the above category
Integrated Reports : These are reports as defined by the International Integrated Reporting Framework (IIRF). They don't need to be in full compliance with the IIRF but at least to clearly reference the latter. These reports combine the traditional comprehensive annual reports with sustainability reports and other IIRF specific disclosures
Summary of main findings: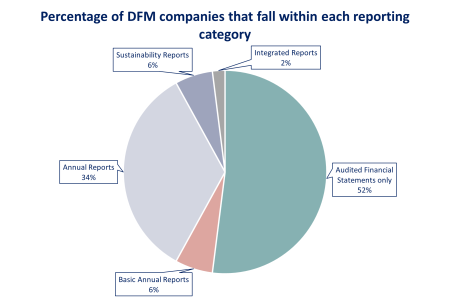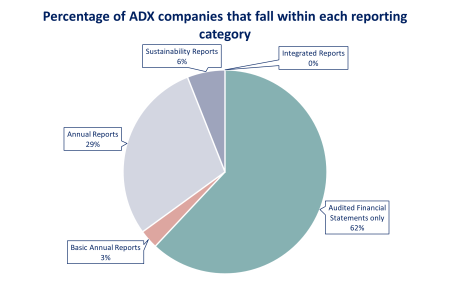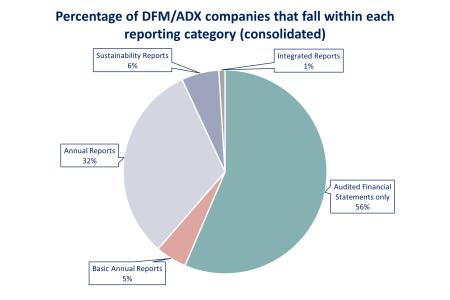 General consolidated observations for fiscal year 2019:
Only 6% of all UAE listed firms provide stand-alone sustainability reports
Only one company in the UAE provides an integrated report
Around 56% of all UAE listed firms only publish their audited financial statements without publishing a comprehensive annual report
Industry specific consolidated observations for fiscal year 2019:
Financial Services firms publish 50% of all Sustainability Reports in the UAE. This would not include any insurance companies as none provide such reports
Over 70% of listed insurance firms publish only audited financial statements (only 4 out of 30 firms publish comprehensive annual reports, and none publish sustainability reports)
Within the real-estate sector, 57% of companies provide a comprehensive annual report while only one company provides a sustainability report
Around 85% of industrial companies provide only audited financial statements (no comprehensive annual reports or any other form of reporting)
Only one industrial company provides a sustainability report
Outlook for the next 3-5 years:
We should see within the short-term the disappearance of the practice of publishing only the audited financial statements reports in its basic form, or as provided by auditors with no added information, and the move towards providing a comprehensive annual report with the necessary material information
In its 2018 publication, the Dubai Financial Market mentions its intention to increase the number of companies providing sustainability reports to 70% by 2025. We believe this is a realistic number that will be reached by all UAE listed firms (both DFM and ADX firms)
Given the inclusion of integrated reporting as part of the mandatory disclosures enforced by the SCA the main form of reporting will by default become the integrated reporting type
We foresee for sustainability reporting within the UAE to show exponential growth in the short-to-medium term
2021 Global Sustainability Reporting Outlook
It is important to note that institutional investors are currently one of the main stakeholders impacting and influencing the choice of standards that companies are adopting. For instance, Blackrock and State Street Global Advisors (with a combined assets under management over $10 trillion) have clearly stated that they expect companies to adopt SASB disclosures by end of 2020. For now, the GRI remains the preferred choice of standards among all reporting entities.
We will certainly be seeing further consolidation (similar to the recent intent-to-merge announcement by the IIRC and SASB) and collaboration among standard-setters to working towards forming and agreeing on a set of global metrics and disclosures that will allow full convergence of the various existing metrics and a global solution to be adopted by all companies. We expect the IFRS to also play a leading role in this regard.
Until then, companies should focus on identifying who their intended audience is and thereby choosing those standards that speak to such audience. Companies will have to use more than one standard to satisfy their diverse audience/stakeholders.
Finally, it has become crucial for companies to also map out their activities against the Sustainable Development Goals, identifying which ones they impact through their business model and entire value chain and to have a progressive plan towards carbon neutrality.
We will be publishing a follow up commentary around mid-2021 as an update on the status of UAE 2021 sustainability and integrated reporting (reflecting fiscal year 2020 reporting).
Long-term sustainable value creation is a foundational practical philosophy that governs our organization's strategic decision making and serves as the basis for our deliverables.