UAE Sustainability Reporting Drivers and Initiatives – Note 2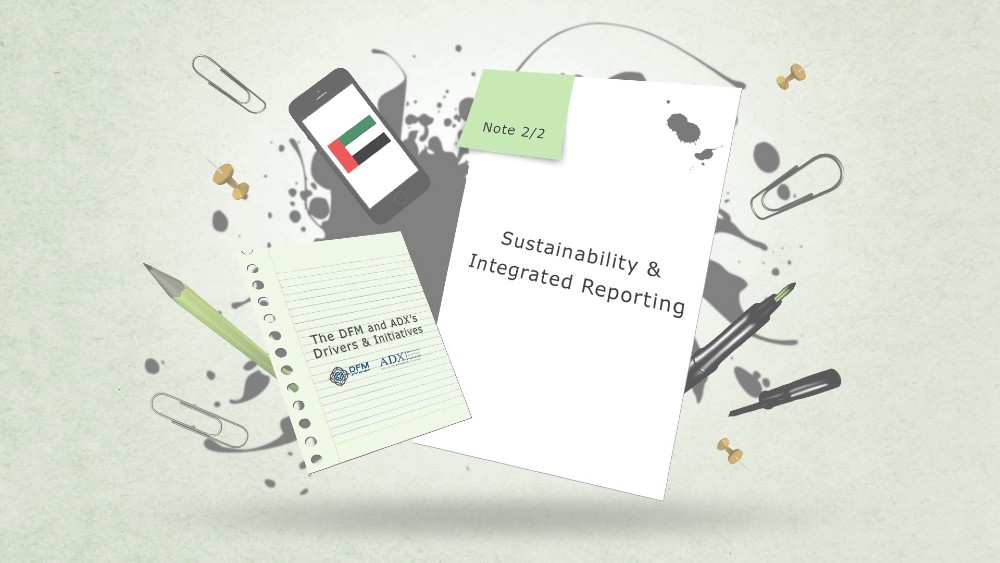 These last couple of years have witnessed a rapid and consistent increase in UAE drivers and initiatives calling on the business community, starting with the listed corporations, to imbed sustainability in their business strategies, and as a result launch their sustainability/ESG reports, as well as integrate environmental, social, and governance (ESG) metrics into their business operation.
This is the second of two series of notes that will shed some light on the local sustainability reporting drivers and initiatives. This note will dive into the Dubai Financial Market (DFM) and the Abu Dhabi Securities Exchange's (ADX) sustainability/ESG efforts, initiatives, and guidance which constitute some of the main factors positively influencing the UAE financial sector, the UAE capital markets as a whole, and the listed corporations into contributing to sustainable development.
This note will focus on some of the main DFM and ADX initiatives specifically in relation to Sustainability/ESG reporting.
Common efforts towards sustainable UAE capital markets
Both UAE stock exchanges have made remarkable strides in creating a path to sustainable UAE capital markets that listed firms and other stakeholders can use to launch or enhance their sustainability journeys.
The DFM and ADX are members of the World Federation of Exchanges, as well as partner exchanges to the United Nations Sustainable Stock Exchanges Initiative, whose mission is to provide a global platform for enhancing performance on ESG issues and encourage sustainable investment, including the financing of the United Nations Sustainable Development goals (SDGs).
The UAE exchanges are clearly at the forefront of the region's shift towards more sustainable capital markets and have both already issued their inaugural sustainability reports as well as their ESG reporting guidelines.
In July 2019, the DFM launched its Sustainability Strategic Plan 2025 based on four pillars: (1) sustainability reporting & disclosures, (2) sustainable investment education, (3) green products & listings, and (4) gender balance & empowering people. The DFM's Sustainability Plan aims to promote ESG best practices and incorporates sustainability at the very heart of DFM's corporate strategy and operations.
On a similar front, the ADX, in its inaugural sustainability report (2019) announced its sustainability framework which consists of 4 main areas: (1) market education, (2) technology & innovation, (3) responsible marketplace, and (4) resilient infrastructure.
Both exchanges' efforts are aligned with and support national sustainability initiatives such as the UAE Vision 2021 as well as global initiatives such as the United Nations SDGs.
In addition, the DFM and ADX aim to be the leading sustainable capital markets in the region and strongly encourage their respective listed firms to provide sustainability/ESG reports. Such initiative will in turn make these listed corporations' shares and the financial markets more attractive to investors' evolving requirements. Such initiatives will automatically contribute to a more sustainable economy, to an environment that is safe, and to an inclusive society.
The DFM and ADX, in 2019, have both issued their ESG disclosure guides as a main sustainability reporting reference and driver, calling on listed corporations to use best practices to issue their sustainability reports.
Both exchanges stress on the fact that investors' demands have evolved towards greater transparency especially for what regards non-financial information, (i.e. ESG metrics), which have clearly become crucial to these corporations' competitiveness and ability to create long-term value. Global investors are rapidly and increasingly making ESG metrics an important element of their investment analysis and decision-making process.
Based on the above, UAE listed corporations are encouraged to align their sustainability reports with DFM and ADX's 32/31* KPIs, as well as with global reporting standards (e.g. Global Reporting Initiative Standards), and the United Nations SDGs. Such an initiative will further encourage listed corporations to imbed ESG considerations into their strategies and business activities.
These various mentioned ESG KPIs are listed in a table that defines each metric. Some of these ask for specific measurements and computations while others are in a form of 'yes/no' questions. The table portrays the correspondence of each KPI to the Global Reporting Initiative (GRI) standards as well as to the SDGs. Complying with these 32/31* KPIs does not render a sustainability report automatically in accordance with the GRI standards, as the latter have additional specific disclosures and reporting principles for defining content and quality that need to be followed. As a result, both exchanges encourage the use of Global Reporting Frameworks to complete their sustainability reports (e.g. the GRI, The International Integrated Reporting Framework, the Sustainability Accounting Standards Board, and others).
As indicated in our first note in which we discussed integrated reports, listed corporations can either issue standalone sustainability reports or incorporate their ESG information in an integrated manner within the annual report.
*the additional KPI is in relation to 'collective bargaining' whereby the DFM includes such metric for those companies operating in countries in which collective bargaining is applicable by law
The DFM launched its inaugural standalone sustainability report in 2019, covering its full 2018 sustainability performance. The report is in accordance with the GRI Standards, Core option. Among  many important sections, the report outlines the DFM's corporate social responsibility journey, and goes over the DFM's sustainability framework, which is aligned with the SDGs, along with other local initiatives such as the UAE Green Agenda 2015-2030 as well as Dubai's Vision 2021. Moreover, as required by the GRI standards, the report portrays the DFM's stakeholder engagement and materiality matrix reviews which are key elements to any corporate sustainability efforts.
As for the ADX, it launched its inaugural sustainability report in 2020, covering its 2019 sustainability performance. The report clearly portrays how the stock exchange has incorporated sustainability in its core strategy in alignment with that of the Abu Dhabi Economic Vision 2030, the UAE 2021 Vision, as well as the UN SDGs. The report also describes ADX's sustainability framework, as well as the outcome of its stakeholder engagement and materiality matrix reviews.
The DFM and ADX's sustainability reports clearly demonstrate their proactivity towards more sustainable UAE capital markets, while also serving as catalysts for the adoption and implementation of sustainability/ESG reporting by UAE listed corporations.
Such an initiative will improve sustainability practices amongst listed corporations as well as increase transparency through engagement with all involved stakeholders.
An additional key driver that will further enhance sustainability/ESG reporting is the DFM's launch, in April 2020, of the UAE Index for ESG which measures listed corporations' ESG performance.
The Index is supported by the UAE Securities and Commodities Authority and developed in cooperation with the S&P Dow Jones indices and Hawkamah.
The UAE ESG Index consists of the top 20 UAE listed companies based on their ESG performance. The index is reconstituted once a year (in November) and performance is assessed according to data gathered by Hawkamah. All listed corporations that meet certain eligibility factors (which among others include a 12-month average daily value traded of US $100,000), are assessed according to two categories, the first focusing on environmental & social indicators and the second on corporate governance. The data or metrics are gathered from the public domain which would include annual reports, other disclosures, website, press releases and of course sustainability and integrated reports.
Such an initiative will further encourage listed corporations to adopt ESG practices and report on their sustainability progress. In addition, it also highlights investors' interest in ESG factors as they, along with agencies, rate listed corporations according to their ESG performance.
In February 2020, the ADX officially selected FTSE Russel, a global index and analytics provider, as benchmark administrator for tailored domestic indices which would include a new ESG index.
In conclusion, it is becoming crucial for listed corporations to issue sustainability/ESG or integrated reports. The absence of such reports could soon be interpreted as lack of disclosure or perhaps as an inability to properly mitigate against potential risks and to benefit from transitional opportunities.
Long-term sustainable value creation is a foundational practical philosophy that governs our organization's strategic decision making and serves as the basis for our deliverables.